Westmount Road
Eltham
SE9 1XX
Message from Rev'd Richard Grocott:
I am glad to say that on Sunday September 20th, we returned to worship in our church.
Over the past few weeks, the stewards and property group have been working hard to put in place the measures to allow us to return safely to worship. This includes, for example, setting a limit of 35 on the number of people attending worship. We have also re-arranged the seating to provide for social distancing of either 1M+ or 2M. Your name will be taken when you arrive for worship as part of track and trace. You will also be asked to wear a face mask or covering whilst inside the church building and the stewards will provide you with hand sanitiser before taking you to your seat. The stewards and signage will also explain the one way system in and out of the church. There will be a retiring collection as you leave the church.
Worship will clearly feel quite different. There will, for example, be no hymn singing, though hymns and other music will be played. To begin with, all our services will be short non sacramental services. Nevertheless, I am confident that under God's guidance, we can make our church a safe and welcoming place and that worship, though different, will be equally joyful and meaningful.
Our church is located on the corner of Westmount Road and Earlshall Road in Eltham.  
We have a car park alongside the church hall for a limited number of cars.  Alternative parking is available in the surrounding streets (subject to some restrictions).
The B16 bus stops in front of the church. Eltham Railway Station is a 10 minute walk away.
Minister: Rev'd Richard A. J. Grocott BSc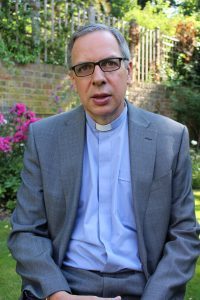 GDPR – as part of the steps the church is taking to comply with Data Protection regulations,
a Privacy Notice has been placed on the noticeboard in the Cafe and is available for all to read.